Our Environmental credentials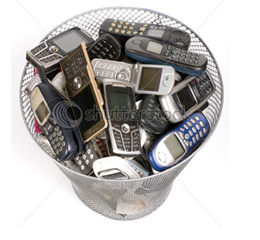 "80 per cent of most mobile devices are made of recyclable and precious materials which can be reused to make new products such as kitchen kettles, park benches, dental fillings or even musical instruments.
"Plastics that cannot be recycled are burnt to provide energy for the recycling process, and other materials are ground up and used as construction materials or for building roads. In this way nothing has to go to landfill."
Markus Terho, Nokia director of environmental affairs markets.
Environmental Responsibilities
At MPX we take our environmental responsibilities extremely seriously and work tirelessly to meet and even exceed all appropriate regulation, including the European WEEE (Waste Electrical and Electronic Equipment) directive.
Even used phones that still work are considered waste and it's critical that in handling them, whether for reuse or recycling we adhere to relevant legislation.
When it comes to Green issues, we don't just talk environmentally friendly we ARE environmentally friendly, processing all phones to the highest environmental standards.
Accreditation
Our facilities have the following accreditations
DCF – Designated Collection facility – collecting waste (used phones) according to the procedures laid down
AATF – Authorised and approved treatment facility - handling, sorting and processing waste according to the procedures laid down
A greener future
Though still low, (around 8%) mobile phone recycling rates in the UK are still better than rates for the rest of the world.
At MPX we hope that by paying top prices for used mobile phones and making the sale of used mobile phones as simple as possible with FREEPOST postage and fast, efficient payments we can work with our agents towards a greener, cleaner future.